Top 20 Highest Paid Athletes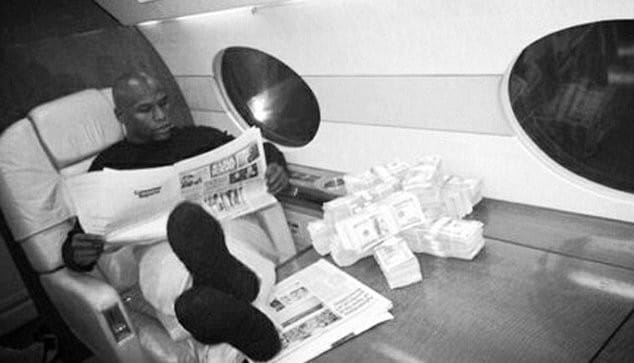 We have all just witnessed the largest grossing sporting event of all time - Mayweather vs. Pacquiao.
The two boxers split over $300 million in revenues
The fight broke PPV viewership records in the United States with 4.4 million buys and over $410 million in revenue.
Floyd retained the title and grew his undefeated record to 47–0 (26 KO)
Floyd "Money" Mayweather has become synonymous with monetizing everything and anything he can. Whether it be through gambling, his fight money, clothing lines, making guest appearances, or getting paid $1 million to let the Burger King guy follow him to the ring for the big fight - Floyd has revolutionized the way an athletes can get paid. One thing Floyd never does though is endorsements... This got me thinking... "where do all the other big time athletes make their money from?"
Let's look at the Top 20 Highest Paid Athlete list at Forbes magazine releases annually to see where these athlete's really make their money.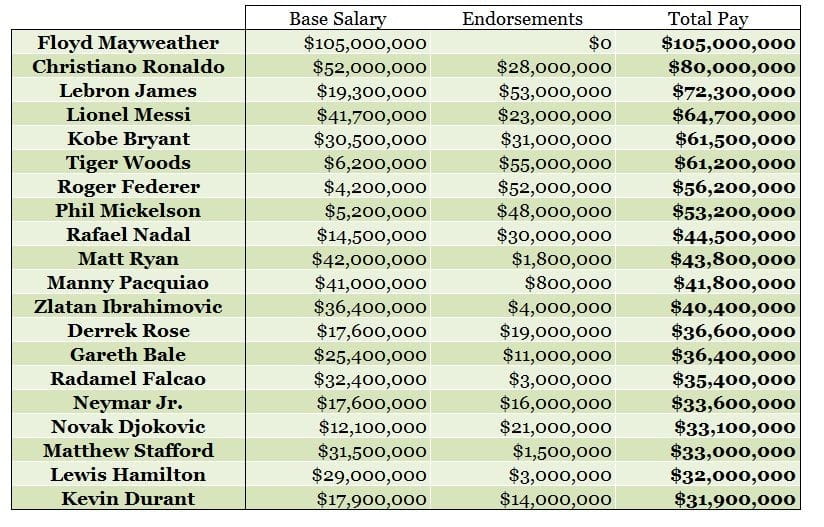 Comparison time...
Not surprisingly, the mega star athletes who get paid a higher salary also tend to sign larger endorsement deals (with the expectation of Mayweather).
The large amount of money professional athletes make has always been a topic of both discussion and scrutiny. We do have to remember though, these individuals are the very best in the world at what they do and have worked extremely hard since probably the day they could walk to achieve this status. So let's compare the best to the best - Top 10 highest paid athletes to Forbes Top 10 highest paid CEO's.

I found it very interesting that both of these groups, when looking at the best of the best, have very similar payouts. I guess when your the best in the world at whatever you do - you can expect some cha-ching.
In case you wanted a comparison to the average Joe, which I always find amusing, let's think of it this way... The average Canadian salary in 2014 was $49,000. If we look at the average total compensation (salary + endorsements) of the top 20 highest paid athletes in the world we see it will come to over $42 million.
THIS MEANS: The average Canadian would have to work 857 years just to earn what these guys do IN ONE YEAR!
Sincerely,
Grant Laschowski
Associate Financial Advisor
SARTORIAL WEALTH
The 53rd | Raymond James Ltd.
Scotia Plaza – Suite 5300
40 King Street W., P.O. Box 415
Toronto, Ontario M5H 3Y2
T: 416.777.7064