Robert Venier, B.Mgt., CFP (CDN), CRPC (USA), RICP (USA)
Financial Planner, Raymond James Ltd.
Robert, who began his financial services career in 2004, offers clients a wealth of experience as a Financial Planner.
Robert holds a Bachelor of Management – Accounting (Advanced) degree from the University of Lethbridge in Alberta. As well he has earned the prestigious designations of Certified Financial Planner (CFP) from the FP Canada, Chartered Retirement Planning Counselor (CRPC) from the College for Financial Planning (USA), and the Retirement Income Chartered Professional (RICP) from The American College of Financial Services (USA). He is also insurance licensed with the Alberta Insurance Council.
Robert harnesses his expert knowledge and many years of experience, including a previous position as staff accountant with one of Canada's largest accounting firms, to develop comprehensive wealth management solutions for clients. Robert has the breadth of experience, expertise and credentials to help ensure sound advice, expert execution and peace-of-mind for clients who seek simple solutions for a multitude of complex wealth management needs.
Born in Victoria, but raised in Cranbrook, Robert is an avid outdoorsman. In the summer, he enjoys camping, hiking, mountain biking and golf. In the winter, he can be found playing hockey or back country skiing in the local mountains. Robert believes that a good balance of work and life is extremely important to maintain a healthy lifestyle.
Trevor R. Parry M.A., LL.B, LL.M (Tax). TEP
Senior Estate Planning Advisor
Trevor holds an undergraduate degree in History from Trinity College at the University of Toronto, a Master's Degree in History from the University of Toronto, a Bachelor of Laws degree from Queen's University and a Master of Laws in Taxation from Osgoode Hall. Trevor's insights have been published in periodicals, journals, and newspapers across Canada and he has provided professional commentary for the Business News Network, among other media outlets. He also speaks regularly across the country for organizations such as STEP and Advocis. Trevor is a member of the Society of Trust and Estate Practitioners, the Canadian Tax Foundation, the Albany Club, and the Royal Canadian Military Institute. He is an Associate Member of CALU and is a member in good standing of the Law Society of Upper Canada, having been called to the Ontario Bar in 1996.
Jason Castelli, CFA
Vice President, Head of Investment Strategy
Jason Castelli has over 16 years of experience in the banking and retail brokerage businesses. Prior to joining Raymond James Ltd. in March 2015, Jason spent five years at CIBC Wood Gundy as Senior Manager, U.S. Equities and Canadian Preferred Share Specialist. Jason was a key member of CIBC Wood Gundy's Investment Strategy Committee which oversaw assets of over $400 million across multiple fee-based platforms. In addition, Jason spent 10 years at HSBC Securities covering North American and international securities. Jason is responsible for providing market insights and investment recommendations. Jason holds the CFA designation and is a registered portfolio manager.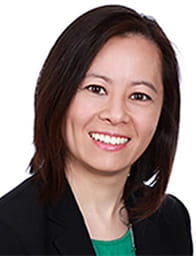 Debbie Wong, CPA, CA, CRPC®
Vice President, Tax Consulting, Private Client Group, Raymond James Ltd.
Debbie joined the investment services business after deciding to focus her time on helping people with their tax concerns through value-added services rather than through a fee-for service model utilized in public practice.
As part of our team of private wealth professionals, Debbie works with our financial advisors to guide their high net worth clients towards practical solutions to their tax issues. She has expertise in Canadian and U.S. personal tax, specific issues affecting U.S. citizens or Green Card holders, and cross-border tax (immigration and emigration). Debbie joined Raymond James in 2004 as the Tax Manager in Operations and then transferred to Private Client Solutions in 2013.
Prior to joining Raymond James, Debbie gained ten years of experience working in public practice as an expatriate tax manager at a major international accounting firm and articled at an accounting firm handling financial reporting and tax compliance for small business families. Debbie obtained her chartered accountancy designation (CA, CPA) in 1998. She also earned the U.S. Chartered Retirement Planning Counselor designation (CRPC®) in 2018 to expand her perspective on the unique planning needs of our cross-border clients.
In her free time, she enjoys relaxing and travelling with her husband, and taking a particular interest in nutrition and fitness methods to age backwards.