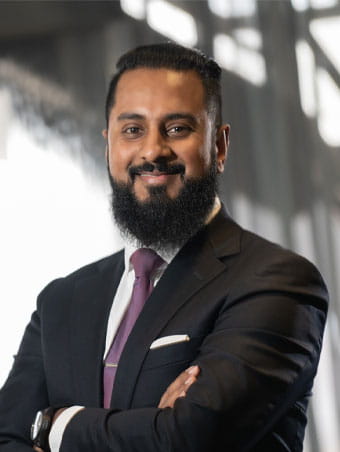 Shiraz
Ahmed,
CIM®
Financial Advisor
Portfolio Manager
Shiraz is a Financial Advisor and Founder of the Sartorial Wealth team of Raymond James Ltd. He specializes in coordinating the financial care for clients. Shiraz works with specialists inside the firm as well as the clients' attorneys and accountants to consolidate their finances into one coherent financial plan. Shiraz also specializes in family services.
He is passionate about helping individuals and business reach their personal and financial goals. He helps individuals maintain – or re-establish – financial wellbeing during times of transition (like sale of a business or career transition). He also works with individuals and corporations wishing to adhere to their faith based and sustainable investing principles.
As a large part of his practice is focused on working with professional athletes and entertainers. Shiraz understands the unique earning potential, health risks, spending habits, and lifestyle costs of professional athletes and entertainers. This has allowed him along with his team to create a business model that is tailored to the specific needs of these world-class performers.
Shiraz's 17 years of experience distinguishes him amongst his peers and financial services experts. Shiraz's knowledge and skills were honed through working with leading banks and asset management firms both in Canada and abroad. Having worked and engaged with more than 1500 financial advisors, he knows what works, and what doesn't. Shiraz holds a Chartered Investment Management (CIM) designation and is among an elite group of advisors fully licensed in Canada and the US and registered with both IIROC and FINRA.
When he is not analyzing numbers, Shiraz enjoys the outdoors, playing various sports including golf and basketball. Originally, from Winnipeg, Manitoba, Shiraz lives in Toronto with his wife and their daughter.
Email: Shiraz.ahmed@raymondjames.ca
Phone: 416-777-7026
---
Credentials
Chartered Investment Manager (CIM)
Series 37 & Series 63 (US Securities Licensing)
Life Insurance License (LLQP)
Advanced Investment Advice (AIA) Certificate
Portfolio Management Techniques (PMT)
Advanced Investment Strategies (AIS)
Wealth Management Essentials (WME)
Conduct & Practices Handbook (CPH)
Canadian Securities Course (CSC)
Certified Financial Planner (candidate)
---
Experience
Financial Advisor & Associate Portfolio Manager – Raymond James Ltd. / Raymond James (USA) Ltd. – (2014 – present)
Advisory Board Member, Breakthrough Medical Technology Inc. – (2013)
Economic Advisor, MA Investments – (2010 – 2013)
Head of Middle East/Africa, Bullion Management Group – (2009 – 2013)
Internal Wholesaler – NEI Investments – (2006-2009)
Associate – TD Wealth Management – (2003-2006)
---
In The Community
Sponsor and Donor, International Development and Relief Fund – 2016 - present
Sponsor and Donor, Sick Kids and Nazem Kadri Foundation – 2016/2017
Sponsor and Scholarship Donor, MAX Gala – 2015-present
Donor, Juvenile Diabetes Research Foundation – 2010 – present
Donor, Ride to Conquer Cancer – 2014 - present
Donor, Raymond James Canada Foundation – 2014 - present
The Chartered Investment Manager (CIM®) Designation builds the skills and experience we need to serve a more sophisticated financial client or institution. Financial professionals who hold the CIM designation are eligible for registration as a Portfolio Manager in Canada. They have expertise in providing money management services to high-net-worth and institutional clients, and they understand the application of portfolio management in the context of Canadian markets and regulatory requirements
What do these designations mean for you? They mean that when you work with an investment consultant who has taken the time to complete these designations, you're working with someone who is well-versed in modern concepts of investment advice, is educated enough to understand how your individual investments are being managed and how they work together – no matter how complex it may be. These skills, along with a commitment to advanced education, enable them to provide you with the kind of service that you not only want, but deserve.